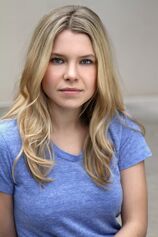 Basia A'Hern (born 25 November 1989) is an Australian film, television, and stage actress.
On stage, Basia has played the role of Little Cosette in the Sydney leg of the 1997–1999 Les Misérables Australasian Tour.
A'Hern made her television debut in 2001, guesting as Cyntrina in the Farscape episode "...Different Destinations".
She has also appeared as Rose Hall-Smith, Stevie Hall's daughter, on the popular Australian drama McLeod's Daughters. She also played the roles of Lyndz in The Sleepover Club, Kate King in Don't Blame Me and Sasha in Double Trouble. In 2002 A'Hern played Kate Henley in Disappearance, a film about a strange old ghost town.
In 2008, she played Lucia Jones in the BBC-commissioned Australian soap opera Out of the Blue.
She attended St Scholastica's College in Glebe Point and the International Grammar School in Ultimo.
Filmograpy
Year
Title
Role
2001
Farscape
Cyntrina
2001
Super Glue and Angel's Wings
Viola
2002
Disappearance
Kate Henley
2002-2003
Don't Blame the Koalas
Kate King
2003
The Pact and The Sleepover Club
Brittany Vickson (The Pact) and Lyndsey Collins (The Sleepover Club)
2005-2006
McLeod's Daughters
Rose Hall
2008

Bitter & Twisted
Out of the Blue
Double Trouble

Lisa Lombard (Bitter & Twisted)

Lucia Jones (Out f the blue)

Sasha (Double Trouble)
Ad blocker interference detected!
Wikia is a free-to-use site that makes money from advertising. We have a modified experience for viewers using ad blockers

Wikia is not accessible if you've made further modifications. Remove the custom ad blocker rule(s) and the page will load as expected.